This page contains resources that may be helpful for local AA groups (meetings).
Running an AA Group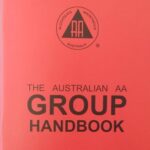 BOOKLET: gives you all the information you need about running an AA meeting, including the roles and responsibilities of the Secretary, Treasurer, ChairPerson, etc; how to run a Group Conscience, etc. You can purchase a copy from the CSO, or download a copy here – GROUP_HANDBOOK
GUIDE: There's also a shorter (6 page) document General Service Positions which tells you succinctly what each of the group roles is about.
BROCHURE: there's a brochure (American, not Australian) on the The AA Group
 
 Flyer to encourage 7th step donations
5 to Stay Alive_A5_Flyerx2 (Right click to download)
Public Information
Click here to download an editable and printable PDF brochure for advertising your local AA group. You can pin them on local noticeboards, leave them in doctors rooms, etc – Local AA Brochure